Removals reconsidered; service & cost savings delivered.
Household moving with ease and cost effectiveness. Move with 1x cubic meter and up! Icon Relocation's sister department, Boxchain-Moving takes care of any international move for a price and service that suits you!
Groupage freight services isn't a secondary option, it is often the perfect answer for many relocating with a reasonable volume of goods.
How does this work?
Icon Relocation are a leader in this area via our BoxChain Lite service & Icon Container solution we offer 3 service packages -
BoxChain Lite - This is our popular service that allows you to take control of your move box by box! We supply the materials and you pack up to the volume that suits your budget. Simply pay for the volume to be shipped! We will collect the packed boxes and deliver to residence at destination. No extra charges, no extra fuss

BoxChain Lite Plus - All the advantages of BoxChain Lite with the added convenience of a packing service. Our team will visit you with the packing materials and work as directed by you. BoxChain Plus is useful if you have furniture to move or higher volumes. You can mix the services.. Pack cartons yourself and we can wrap the furniture. The choice is yours!

Icon Container - If you have a part household to move we can offer a fast and efficient sole-use container (CTR) service. This means Icon will pack and load a 20ft or 40ft container at your residence that is shipped quickly to destination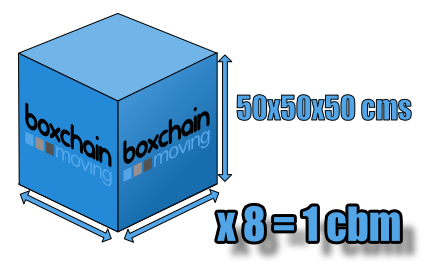 Our BoxChain service is priced per cubic metre. With of our cartons equals one cubic metre. There are different sizes and shapes of cartons and of course you may have larger items to wrap. You can simply just order the number of 'cubic metres' you think you require.
If you are unsure of the volume, we can help calculate this by -
- Sending us photos of the shipment
- Setting up our video survey
- Organising an on site survey at your home
Where are you moving to? We will advise you on the correct steps regarding clearing your possessions at destination
BoxChain-Moving operates moves of all sizes to all countries. How do we arrive at the price per move? There are many elements of costs in an international move but broadly speaking it can be categorised into 3 x parts. 1- Origin; 2 - Freight, 3 - Destination.
We offer an all risks insurance policy. For BoxChain Lite and BoxChain Plus we have a straight forward flat charge for declared value. For higher value shipments we based the cost on insurance on the declared value of your shipment
For the BoxChain Lite service, you can request delivery of cartons and materials on any working day and at a later date we can collect the packed shipment. If you have opted for BoxChain Plus you can book a date for our crew to visit and pack up. (We operate Mon-Sat except public holidays)
BoxChain Lite & BoxChain Plus services are community driven shipments. We put you all together and ship once we have achieved enough volume (enough jobs) to ship a container.
Our BoxChain Container (CTR) service has dedicated transit times
6 - You're all done. Everything else will be taken care of, we keep you updated at every step of the way.
Everything else you need to know.
All our groupage shipping solutions are highly cost effective and allow for the collection time & delivery time to be tailored to the assignees needs and schedule
Icon complete the packing and unpacking for BoxChain Plus in the same way as a full removals whilst providing full transit insurance including total loss; pairs & sets; mechanical etc…
For more information on our world groupage services, please do not hesitate to contact us further or go to our BoxChain Moving Singapore website via the link below.