Technology that supports every step of the relocation journey
Our market leading systems are easy to use and offer true help when they are needed the most.
Software Every Step of the Way
1 - Pre-Departure Support
From the moment a relocation has been suggested, let along confirmed we can help by using -
Instant Housing Costs - Don't guess what the housing budget should be for any given location; we can not only tell you, but show you in real-time

Hotel, Serviced or Corporate Housing - Need to know which is going to offer the best price for the assignees relocation? Our Cost calculator will confirm what option works best and how much you could save

Assignee Briefing - Allow us to help with the assignee briefing by completing a one to one call, instant access to our On-Line Area Guide plus we can build an Ideas Board, via MoveWise, of housing to prepare them for their new location quickly saving time & money
Technology when & where it's needed the most
Systems to enrich the relocation experience
2 - The Relocation
Multi-Quote Process and Video Survey - Ensuring that HR are able to confirm the costs of the removals quickly. Furthermore, we can ensure we have bench marked the requirements with the market to find the right cost vs quality solution

Heat Map - Where the client has approved and shared data, the most popular locations others have moved to can be shared via and interactive map allowing for them to make better decision

The Home Search - Every step can be provided fully on line for the self managed, partly on line for the unaccompanied home search and supporting and enhancing the accompanied home search experience. No other company can offer technology for every type of relocation

Corporate Housing - The assignees moving into properties managed by Icon will have instant access to the platform to allow them to know all about their home, their move in & move out dates and who they will be meeting if a Meet & Greet has been approved

Check in - Full reporting in the condition of the home logged and recorded with images and text ensuring that there will be few if any issues at the end of the rental term
3 - During their stay
Maintenance Reporting - whilst staying in the managed property, they will all have free access to our on-line tool to report any problems 24/7 with out of hour emergency support in place to cover the unexpected

SMS & WhatsApp - Request the updates on all core dates, actions or activities in the format that works for you and your assignees. From e-mails to calls; from texting to API's; let us know how you would like to be keep updated
4 - Departure
Multi-quote & Video Survey - Ensuring that the removals price is clear and accurate in advance of the removals starting

Pre-Check Out - Our full reporting software will be introduced to compare the check in to the check out managing the deposit management process

Corporate Housing - Moving out of the corporate accommodation? Using our platform the check out date can be altered and adjusted as required, book in the check out plus clean, report any final maintenance issued that have been noted and allow us to report to HR on any areas of concern. As assignees work the globe, the data they generate is just as busy in the clouds of cyberspace. And as we know all to well, this creates a huge and variable combination of human need and virtual information you have to get right, on time, all the time.
However, these are just the highlights. The platform is much more than this; it is in fact our Case Management & reporting system allowing for a level of connectivity not usually seen elsewhere.
Interested in knowing more?
Well the good news is that our systems support the real life/data balancing act and it's about to become a whole lot easier.
The platform is centralised around MoveWise, our 'theory of everything' programme, bringing these digital and personal worlds into one central and easily manageable space.
Each assignee will be looked after in a personal way, cocooned in compliant, sliceable and diceable data for accurate management and reporting. It'll make your life better, assignees life better and our clients happier. What's not to like? We think it's a game changer. If you'd like to know more contact us for a demonstration.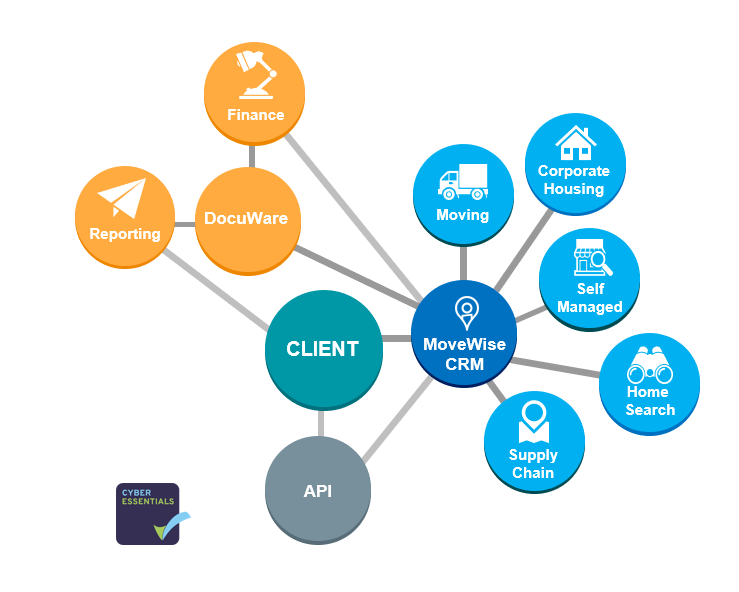 The next generation of relocation software management
Why build our own platform? Simple, there was nothing out there that offered the solution that not only us, but the industry needed, so we built our own.
After 3 years of development, we can proudly state there is nothing else like this with everything focused around the assignee experience. What's more, the best is still to come. Ask for more details, a personal demo OR perhaps we can build something unique for you?
MoveWise
Our 'Theory of Everything'
One platform to address every service. Supported by complete 100% data management for assignees to access real-time data 27/4 from any device worldwide.
So how can this help you?
Full Case Management System - tracking every relocation regardless of service being provided

Business Travellers/New Hires/Graduates - In fact, supporting anyone relocating with a limited mobility package by world leading on-line solutions

Duty of Care - Digital solutions for assignee management; even those who are addressing their own housing needs

Home Search - 'Ideas board' of homes shared digitally before your relocation. Home search agenda provided on your phone/tablet and fully interactive and updated in real-time. Everything you need on any device

Property Management - Moving into a corporate property? Everything you need to know about the home is right there. All staff allocations, move-in & move-out dates tracked, tours of the home & more right at your fingertips

'Live' Rent Map - Find out in real-time what the average rental price is, plus the available stock levels for over 6,000 locations through an interactive map

Assignee Login - Tailored to the service they are receiving

Online Area Guide - Have questions about your new location? It's all here…

GDPR - Assignee access 24/7 on all the data we hold. Additional data can be uploaded or removed as required

Reporting - Every data point logged on MoveWise is reportable. Simple of that…
MoveWise really is our 'Theory of Everything'. Ask for a demo to understand how this can help your relocation programme.