Self Managed Home Finding
24/7 home search support for assignees managing their own relocation
Even if the relocation policy does not allow for accompanied or unaccompanied relocation support, our Self-Managed Home Finding service is an extremely low cost solution guiding the assignee to finding their new home, whilst supporting the employer to deliver high quality support to your assignees.
We understand that a full Duty of Care is essential for all assignees, therefore the service has been developed ensuring that every assignee, regardless of where they are coming from and their needs, are addressed within the areas where it matters the most.
Guidance & support is provided through the maze of the local housing requirements that they will face. Including highlighting all their and the landlords obligations; guide to rental prices and what they should and shouldn't pay; templates for a range of essential steps; fact sheets on all core subjects plus access to the amazing on-line area guide.
The assignee might be completing their relocation by themselves, but they are not alone.
Inbuilt Chat feature; alongside good old fashioned phone calls

API connection; for self populating of the system

Potential housing options; presented (terms & conditions apply)

Home Search Agenda; itinerary completed by Icon for each assignee
Rental contract check; in built with easy uploading functionality

On-Line Area Guide; interactive guide to living in the UK

Heat Map (see below & subject to client approval)

Much more included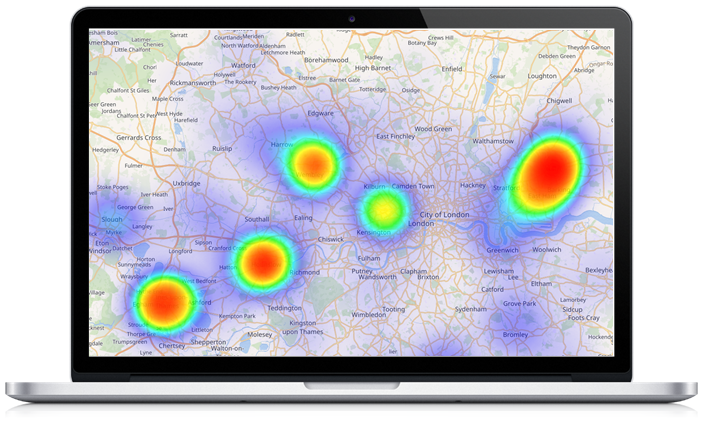 Interactive map of most popular locations
(N.B. - Client approval required)
How our Self Managed Home Finding Service can deliver your business goals
Amazing Assignee Experience; True Duty of Care
Designed to work with or without an API connection, an all new way of supporting anyone relocating where a lump sum or Duty of Care level of support may be required.
Through close partnership with our clients, this platform has been developed and enhanced over the past few years. Version 3.1, which has just been launched, allows for a new wave of ease of use, true assignee support alongside strong measures to reduce client & assignee costs.
Don't take our word for it, ask for a demo and see how this might just change how companies support graduates, business travellers, interns, new hires and limited support assignees.
Who would benefit from this support?
Icon have decades of experience supporting all nationalities to relocate and are as a result, leaders on how to balance the service between digital and personal support.
The nationalities most commonly benefiting from this support include locations such as Indian and Europe, with thousands of assignees receiving support annually. Ask us how we can address your Self-Managed assignee from any location globally.
Most popular assignee groups as a percentage
Package Options
An ideal solution for every need & budget.
Buy the support in the packages that suit 'your' needs. Furthermore, if you don't see what you want then just ask and we will build you own unique solution. (Pricing Matrix shared on request.)
Let's get started. Click the button below or go to the chat feature in the bottom right hand corner to obtain your quote.
Looking for a step up but not looking to increase costs?
ICON Relocation are world leaders in providing low cost, home search solutions for those with limited relocation packages. Your assignee's 1- receive a unique login to MoveWise, 2 - complete the in-built questionnaire and housing requirements, 3 - state what date and time to view the homes that meet your requirements.
4 - We do the rest. The day before your search, a full agenda will appear in your MoveWise login with route maps, contact details and housing details ready for your home search day plus a heat map of the most popular areas based on your criteria (client approval required). It really is as simple as that…!
It's important that our actions both support the assignee and the HR department.
Our focus for all our clients is in delivering on the Four S's
Ask us to show how we can achieve these goals for you.
Request your quote and let us build your award winning, cost saving, employee satisfying solution.
Let's get started… Click the button below or go to the chat feature in the bottom right hand corner.